AQUA-ACTIEF & SPORTEN OVERDAG: WELKOM!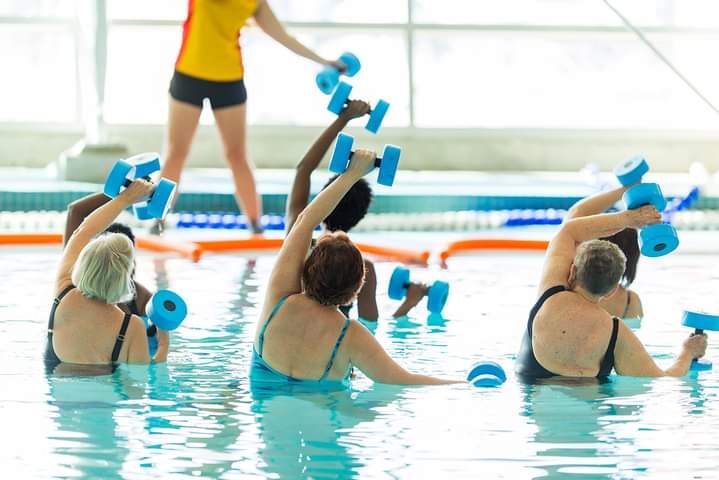 Nu momenteel onze avondlessen vervallen willen we graag even onze diverse mogelijkheden overdag onder de aandacht brengen. Op alle doordeweekse dagen zijn er wel meerdere mogelijkheden:
Aquajogging, Aquarobic, Aquafloat en Aquafit en natuurlijk het Baby- en Peuterzwemmen. Per les €7,- of per 10 lessen €55,90 en je kan switchen van les. Geen inschrijfgeld, reservering, abonnement of opzegtermijn. Op de site staat alle info over de aqua-actief lessen of bel de receptie op 0522-251002.
DIT ZIJN ONZE AQUA-LESSSEN OVERDAG:
Aquajogging: maandag: 09.30 – 10.00 uur
dinsdag (zonder muziek): 14.00 – 14.30 uur
donderdag: 14.00 – 14.30 uur
Aquarobic: maandag: 10.30 – 11.00 uur
Bootcamp on Water / FloatFit: woensdag: 10.00 – 10.30 uur
AquaFit: maandag: 10.00 – 10.30 uur
wedstrijdbad 28° – op muziek
dinsdag: 09.00 – 09.30 uur
recreatiebad 31° / reuma-fibromyalgie
woensdag: 09.30 – 10.00 uur
wedstrijdbad 28°
donderdag: 08.45 – 09.15 uur
recreatiebad 31°
Baby- en Peuterzwemmen is op maandag- woensdag- en vrijdagochtend, er zijn meerdere groepen die ingedeeld zijn op leeftijd.
Je bent van harte welkom, een probeerles kost €7,- maar wanneer je daarna een 10-lessenkaart aanschaft wordt de eerste les niet afgeboekt, zodat je de proefles kosteloos hebt meegedaan.
Een eerste AquaFit les is gratis.