Klimmen in Klimpark Hesselingen voor je kinderfeestje!
In Klimpark Hesselingen is er van alles te beleven voor jouw perfecte kinderfeestje. Zo kan je zwemmen, klimmen, spelen in de speeltuin en lekker eten. Nodig je vriendjes en vriendinnetjes uit en kom gezellig langs!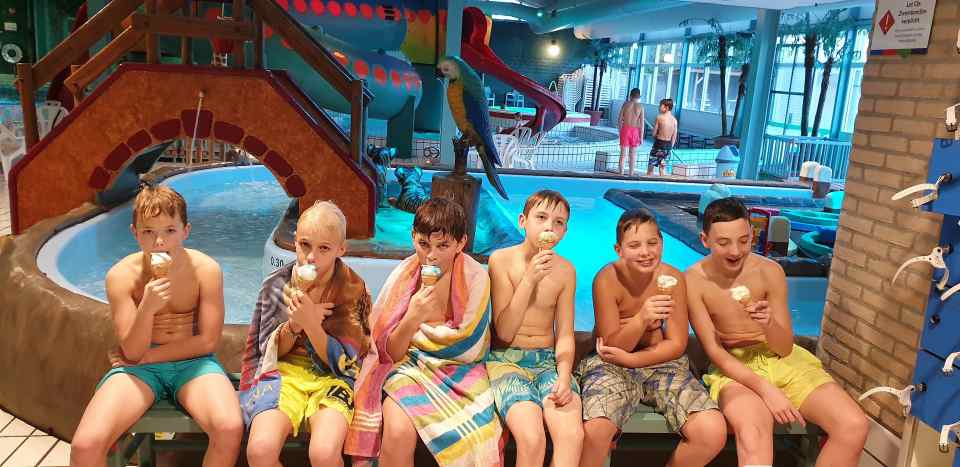 Wat is er mogelijk voor je feestje?
Alle combinaties zijn mogelijk voor je kinderfeestje. Wil je klimmen en eten en drinken? Wil je klimmen, zwemmen en eten? Wil je zwemmen en minigolfen? Het is allemaal mogelijk! Hieronder staan een aantal mogelijkheden voor feestjes of uitjes. Bovendien kunnen wij arrangementen op maat samenstellen. Neem contact met ons op om te informeren naar de mogelijkheden.
* Slingeraap € 4,40:
Klimmen + 2x drinken met een verse fruitvariatie of beker softijs met disco- of smurfendip.
* Klimgeit € 7,50:
Klimmen + patat met mayonaise, smakelijke snack, 2x drinken en een softijs met disco- of smurfendip.

All-in tarief: € 18,50 → zwemmen, klimmen, spelen en minigolf.
Een dag onbeperkt actief plezier voor een scherpe prijs. Ook hier kan je een horeca-arrangement bijboeken voor een compleet feestje of uitje.
Ook een snackbuffet, een uitgebreide lunchtafel of een barbecue is in overleg mogelijk. Ga hiervoor naar: meer informatie over het restaurant.